HANDS ON THERAPY
SPA
Committed to the power of touch, GROUND Wellbeing rituals were created with purpose and intention to deliver carefully developed massage treatments to bring relief from Insomnia, Anxiety, Burnout, Gut Health & Menopausal Symptoms.
SPA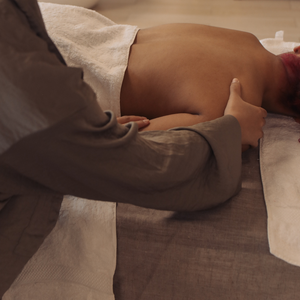 GROUND'S FOUNDER
PEIGÍN CROWLEY
An award-winning spa consultant, Peigin has spent over 25 years crafting distinctive and transformative wellness products and treatments for 5-star luxury properties. Deep within Lockdown in 2020, her passion for wellbeing helped birth her Spa Brand GROUND. 
Peigin embarked on a quest to create unique aromatherapy products, Spa Treatments and at-home rituals that could be easily incorporated into a daily self-care routine.
Today, Ground Wellbeing continues to grow internationally with sincere intention, focusing on craft and quality over quantity, sustainable business practices and the promotion of accessible and intuitive self-care for all.
LEARN MORE ABOUT PEIGÍN